09/07/13Author: Michael Rothstein - ESPN
Young, Lions will try to deny Peterson a quick start
ALLEN PARK, Mich. -- The first time Willie Young faced Minnesota in his rookie season, the defensive lineman lined up opposite the offensive tackle. The ball was snapped.

But before he could even make a move and touch the offensive lineman, his entire focus changed. It was too late.

Adrian Peterson, the top running back in the NFL -- the player Detroit's front seven will be doing everything it can Sunday to at least contain, if not stop -- already had the ball and would make anything Young was about to do useless.

"A lot of other backs, it's almost like there's a slight bit of hesitation when those running backs get the ball," Young said. "In this case, this scenario, as soon as [Peterson] gets it, there are instances where before I engage with the offensive tackle, he's already got the ball and I'm already in pursuit.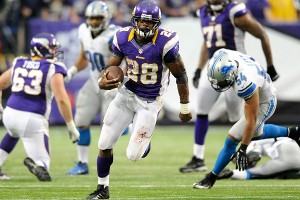 Lions players marveled at Adrian Peterson's ability to leave defenders behind before they even know it.
"And I didn't even touch the tackle yet."

What he is saying is not any different than what others have said about Peterson in the past. He is that difficult to stop. He's the top running back in the league, a guy who gained more than 2,000 yards last season, for a reason.

It is that speed and ability, Detroit linebacker Rocky McIntosh said, that makes Peterson different from other backs. From the very first step he takes on any carry, Peterson believes he can score. From anywhere. In that single step.

It leaves opponents with a mix of determination, fear and excitement. Determination because shutting down Peterson could make a name for yourself. Fear because of what he could do. Excitement because if you can tackle him or stop him, you can say you hit a surefire Hall of Famer.

Everyone has a different opinion, too, about what makes Peterson as tough as he is. Some, like Young, point to his speed. Others see what he does with his eyes.

"The vision he has," Detroit rookie cornerback Darius Slay said. "He has this vision where he can bounce it inside between the tackles and he can outrun you on the edge. He has great speed, great size.

"Ain't too many people that's bred that way. He's got the whole package of the complete running back."

Somewhat surprisingly, Detroit hasn't fared too badly against Peterson in the past.

In 11 career games against Detroit, Peterson has averaged 105.9 yards a game and scored nine touchdowns. It may seem like a lot of yards, but consider this -- he has actually averaged more yards against both Chicago (108.5) and Green Bay (120.2). So, relatively speaking, 105.9 yards is decent.

Yet Peterson is still one of the few players in the NFL who can destroy any defense at any time.

"They've got that kingpin, 28, back there," Detroit defensive coordinator Gunther Cunningham said. "And he makes me not sleep very well at night."

The Lions added size on the defensive line this offseason, drafting 6-foot-5, 271-pound defensive end Ziggy Ansah in the first round of April's NFL draft and signing 6-5, 276-pound Jason Jonesand 6-6, 275-pound Israel Idonije as defensive ends in the offseason to go with tacklesNdamukong Suh and Nick Fairley.

So there is some size there to pressure the Minnesota offensive line and attempt to get in the backfield to thwart Peterson before he starts getting comfortable.

Detroit's containment strategy when it comes to Peterson is to attack him early. If he starts off with a few big runs, he has already found his confidence and at least one hole in a game plan, so it would likely be a long day for the opponent.

This, of course, is extremely difficult to accomplish. Yet for any team to beat Minnesota, it almost has to happen.

"Literally," McIntosh said. "The game is on you."

The Lions seem to know that. Because with Adrian Peterson, everyone knows to expect an elite level of play every week. Whether it's a game-breaking play or the quest for another 2,000-yard season, anything is possible for Peterson.

The thing is -- sometimes, every once in a while -- he can give even more than that. It's why even in a room full of elite athletes, Peterson can still produce awe. It's something you can see from the start.

"It's obvious," Young said. "He's the top running back in the NFL."
comments powered by Disqus